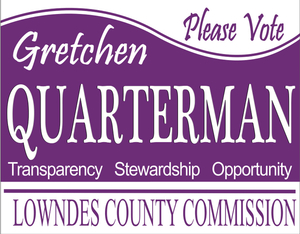 FOR IMMEDIATE RELEASE
Hahira, 12 March 2014 — Gretchen Quarterman has qualifed for Lowndes County Commission District 5, for opportunity, stewardship, and transparency.
"Standing up for property rights includes opposing an unnecessary pipeline and being smart about development," said Quarterman. "No private company should be able to come in here and take people's land for no local benefit. Our community has a foundation in agriculture and we need farmers and farmland just as we need roads and subdivisions. Stewardship is an important part of economic development."
Quarterman says local government needs to remember its purpose is to provide services for its people, unlike a business, which is for profit. "I will never suggest charging for a library card," she said.
That includes services for businesses. "Why should getting a license only be possible during the week? There's a lot of things that we could use technology for to make our business processes much more streamlined for our business owners."
And she added, "We won't attract businesses to locate in our community when the county is in the process of suing a local business."
Gretchen has been listening to citizens around the county express their frustrations about local government responsiveness and she understands that people want their elected officials to take a stand on behalf of the citizens.
She actively promotes local agriculture by volunteering at the County Extension office, selling vegetables at the Valdosta Farm Days Farmer's Market and she chaired the South Georgia Growing Local conference in January. "Local food: it's local business and it tastes good!" she said.
Transparency has long been her signature issue. "As the VDT wrote: 'When officials act like they have something to hide, they often do, and when they begin to consider the government's business as their personal business, it's time for the public to become concerned.'"
For years she has videoed local government meetings and put them on YouTube for everyone to see. "It's time for our county government to do that itself for its own citizens."
Elect Gretchen Quarterman to Lowndes County Commission District 5, for transparency, stewardship, and opportunity. "I will be a voice of the voters in district 5."
Contact:
Gretchen for Lowndes
PO Box 461, Hahira, GA 31632
gretchenforlowndes.com
information@gretchenforlowndes.com
229-834-1945
Short Link: