If you are concerned with some of the same issues of transparency, stewardship, and opportunity, you can contribute to Gretchen's campaign for County Commission District 5.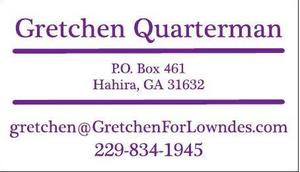 Money is always useful, for yard signs, cards, door hangers, advertisements, and other expenses. You can donate online or send a check.
Or you can contribute in other ways, such as talking to your friends or family or coworkers or church or civic group, or helping arrange a meeting where Gretchen can speak, or calling people, or canvassing door to door, or calling in to a radio show, or writing a letter.
Here's how to donate or sign up. Thanks for helping Gretchen be a voice for the voters in district 5 and the people of Lowndes County.
-jsq
Short Link: