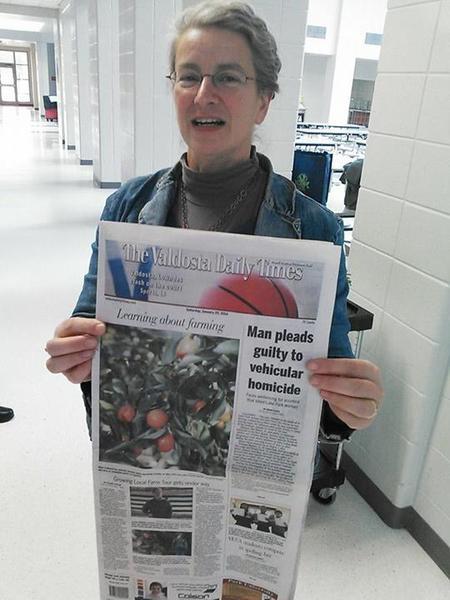 Gretchen and a committee organized the successful South Georgia Growing Local 2014 conference last January 24th and 25th. Here she is holding the front page of the VDT, about the Friday Farm Tours.
Agriculture has long been a mainstay of the economy of Lowndes County, an "agricultural heartland", as a Valdosta Daily Times editorial called it November 14, 2012. The conference included everything from the very traditional (ham curing and hand spinning fibers into fabric) to new crops (Katahdin sheep, olives, door-yard citrus and more citrus), to scientific takes on tradition (backyard chickens seed saving, permaculture), to self-help and community building (House of Hope: Gardening for Recovery and growing up growing, and multi-generational growing), politics (USDA and rural revitalization and 2014 General Assembly and Rural GA), 21st century innovations (solar farms), and of course family farms (Hagen Homestead, South Georgia Olive Farms, Raisin' Cane), plus a panel of local growers talking about their experiences.
Gretchen will continue to promote local agriculture as an opportunity, and for stewardship of our communities, farmland, and forests.
-jsq
Short Link: