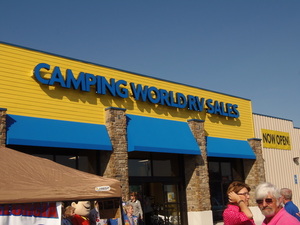 Lowndes County Commission District 5 is now home to a Camping World store.  For RV enthusiasts, travelers, and campers, this store has a wide variety of items. The store provides opportunities for employment for our community, resources for many who travel through our community on the RV circuit and another outdoor shopping alternative for local shoppers. I checked out the cooking and picnic part of the store.
The Lake Park Chamber of Commerce held
a ribbon cutting on March 21st and I was able to attend and meet many new people and visit with many of my Lake Park friends.
Jerry DeLoach told me about the South Georgia Rivers Sams RV Club which according to its web site
is dedicated to supporting fellowship with one another and an increasing appreciation and awareness of RV'ing!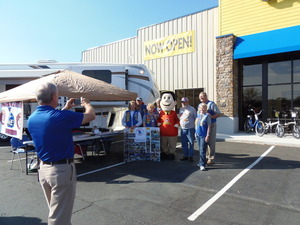 We had an opportunity to talk about the beautiful rivers of South Georgia.
I'm glad that we have so many groups who care about good stewardship and I look forward to serving them as County Commissioner in District 5.
–gretchen  
Short Link: