Gretchen's ad ran next to her interview answers Sunday a week ago in the Valdosta Daily Times. Here's why you should please vote for Gretchen tomorrow for Lowndes County Commission District 5. Remember, not November: it's a Special Election tomorrow, Tuesday May 20th.
Gretchen Quarterman

Age: 55

Hometown: Unincorporated Lowndes County, between Hahira and Moody AFB.

Office: Nonpartisan Special Election, Lowndes County Commission Super District 5.

Please list experiences or experience that would benefit you in this office:

"My work experiences from the public and private sectors in management, budgeting, and customer service prepare me to be a County Commissioner. As a farmer and business owner, I am aware of the challenges that face our community in providing opportunities for economic development, in providing government services with limited resources, and with keeping citizens informed about these opportunities and services.

"I currently serve on the appointed Zoning Board of Appeals, since 2008, and I have attended nearly every Lowndes, County Commission meeting for the past five years, including the recent two-day budget session and the 2014 annual retreat."

What inspired you to run for office?

"In attending County Commission, Planning Commission, and various City Council meetings regularly for several years, I see many things that we do well as a community and many that we can do better. Government transparency is a fundamental building block in making sure that citizens have open access to the government and that the government is being a good steward of available resources.

"I have been listening to citizens around the county express their frustrations about local government responsiveness and I understand that people want their elected officials to take a stand on behalf of the citizens.

"Providing opportunities for more open and inclusive interactions between, the government and those whom it serves can increase the effectiveness of the government and the confidence of the citizens."

What do you hope to accomplish in this office?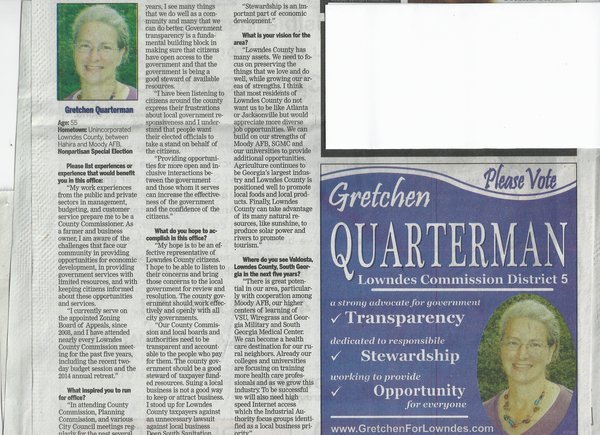 "My hope is to be an effective representative of Lowndes County citizens. I hope to be able to listen to their concerns and bring those concerns to the local government for review and resolution. The county government should work effectively and openly with all city governments.

"Our County Commission and local boards and authorities need to be transparent and accountable to the people who pay for them. The county government should be a good steward of taxpayer funded resources. Suing a local business is not a good way to keep or attract business. I stood up for Lowndes County taxpayers against an unnecessary lawsuit against local business.

"Stewardship is an important part of economic development."

What is your vision for the area?

"Lowndes County has many assets. We need to focus on preserving the things that we love and do well, while growing our areas of strengths. I think that most residents of Lowndes County do not want us to be like Atlanta—or Jacksonville but would appreciate more diverse job opportunities. We can build on our strengths of Moody AFB, SGMC and our universities to, provide additional opportunities.

Agriculture continues to be Georgia's largest industry and Lowndes County is positioned well to promote local foods and local products. Finally, Lowndes County can take advantage of its many natural resources, like sunshine, to produce solar power and rivers to promote tourism."

Where do you see Valdosta, Lowndes County, South Georgia in the next five years?

"There is great potential in our area, particularly with cooperation among Moody AFB, our higher centers of learning of VSU, Wiregrass and Georgia Military and South Georgia Medical Center: We can become a health care destination for our rural neighbors. Already our colleges and universities are focusing on training more health care professionals and as we grow this industry. To be successful we will also need high speed Internet access for everyone, which the Industrial Authority focus groups identified as a local business priority.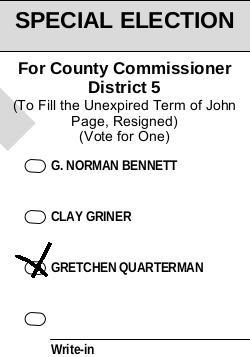 This Special Election Day is tomorrow, May 20th! Please vote for Gretchen Quarterman for Lowndes County Commission District 5.
-jsq
Short Link: