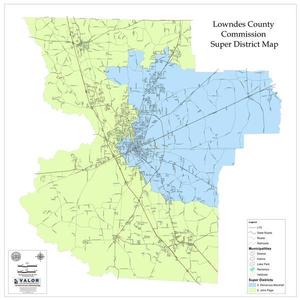 District 5 is the west superdistrict, including Moody Air Force Base, Barretts, Hahira, Shiloh, Mineola, Stone Creek, Remerton, Lake Park, Clyattville, most of Dasher, and parts of Valdosta.
Here is PDF suitable for printing.
And see below for how to zoom in online.
You can also see details for districts in your neighborhood. Go to VALORGIS Election Boundary Map, mouseover Layers On-Off, and click on the box for County Commission Districts. (You may also want to click off Precinct Boundaries.) Then you can zoom and pan to see details of all five County Commission districts.