Our community can come together and work together really well when there's something going on about Moody. We need to do that when there's something going on about anything in our community….

I want to know how is my money being spent and I think everybody wants to know that….

When I was a young person my parents always had foreign exchange students living in our home. We were always having transition a different student every year; sometimes two in a year. And having Moody in our community is like that We have people come to us from different parts of the United States and they live in our community….

I'm running to serve. Definitely it's my calling; it's what I'm supposed to be doing. I ask you to support me with your vote. Thank you.
"I'm definitely looking forward to Farm days," said Gretchen Quarterman, a farmer in Hahira. "It's an excellent opportunity for farmers, not only to sell but for local people to get local, fresh food. And, when we buy from local farmers we support the local economy."
WALB aired this story on TV. They didn't post video on the web, but there are several stills with the story. And here are videos of WALB and Gretchen.
"The jewel of the South", "a gem down here", is what Scott James and Gretchen Quarterman agreed Lowndes County could be, starting with local government transparency and continuing with not waiting on Atlanta to build on local strengths such as South Georgia Medical Center and Wiregrass Tech.
"People would have a lot more confidence in the government if they understood it and they could see it happen," said Gretchen Quarterman yesterday morning on drive-time radio. She used
Monday night's Brookhaven apartment building rezoning public hearing in Lake Park
to illustrate: local landowners have property rights and there was a lack of communication between the developers of a proposed apartment building, the Lake Park city government, and the neighbors. She also talked about jobs, local agriculture, and protecting property rights and the environment from the Sabal Trail methane pipeline.
Gretchen said before she moved back here as a south Georgian by choice, if somebody had asked her if she would get into politics, she would have said that was crazy, but through following the Lowndes County Commission and serving on the
Zoning Board of Appeals (ZBOA)
she had developed a calling to serve.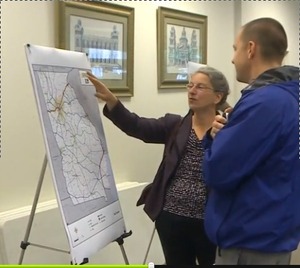 Gretchen went to the public meeting about the Georgia State Rail Plan at the Valdosta City Hall Annex, to observe, and to express her concern that the plan needs to benefit all Georgians, not just certain companies, and not just metro Atlanta. About 23 people attended the meeting in Valdosta, which was more than the 25 in Atlanta or the 6 in Dalton.
Many economic opportunities could come from improving freight service, or adding passenger service, ranging from rail jobs to tourism to commuting to work, plus steering development to rail corridors. There are also potential drawbacks, such as increased rail traffic causing more highway traffic delays at railroad crossings, and possible new engineering such as the new US 84 overpass under construction.
I sort of wish that I had been able to observe the executive session where you discussed the pending lawsuit against Deep South Sanitation. I wonder who asked the question "Is it beneficial to all concerned?" I wonder which one of you said "This will really attract people to start or relocate business in our county when we sue one of our local business owners."

If I were considering a business move, I wouldn't move to a county that eats its own.

I ask that you drop the lawsuit and stop wasting taxpayer money. Thank you.

[Applause]
The Zoning Board of Appeals decided unanimously at its 6 December 2011 meeting to publish its agendas and minutes on the City of Valdosta's website. This item was not on the agenda, but members of such a board can make motions anyway. Member Gretchen Quarterman suggested it. Valdosta City Planner Matt Martin said they could do it no problem. Discussion ensued. They all agreed to post agendas before their meetings, and to post minutes after they are approved (usually at the next meeting, a month later). Maybe other local boards and authorities will follow this example.
Acknowledgement
All videos on this page are by Lowndes Area Knowledge Exchange (LAKE) unless otherwise noted.
Videos by Gretchen
See also the many
videos by Gretchen
, bringing transparency to local government so you the citizen can see what your elected and appointed officials are doing.