In addition to the
videos of Gretchen
, here are a few of the many videos by Gretchen, making local government visible to you the citizens.
Gretchen thinks that government transparency is important. She has videoed all the official public meetings where citizens of Lake Park have opposed rezoning for an apartment complex, including the public hearing of April 28th. The attorneys for the developer tried, but they were up against much stronger opposition than they appeared to have expected. "A molehill to cover up an eyesore," said one.
Gretchen videos her own appointed board, and
she persuaded ZBOA and the city of Valdosta to put their agendas and minutes online
. At the May meeting of ZBOA they decided to grant a variance for access to a landlocked lot.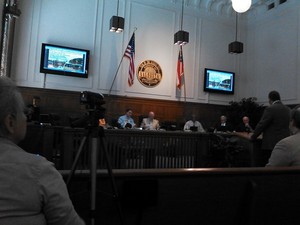 Gretchen often videos Valdosta City Council meetings. At their Tuesday May 6th Work Session the U.S. Army Corps of Engineers presented a long-awaited initial flooding study.
Gretchen has videoed almost every meeting of the Lowndes County Commission for five years now, putting them on YouTube.